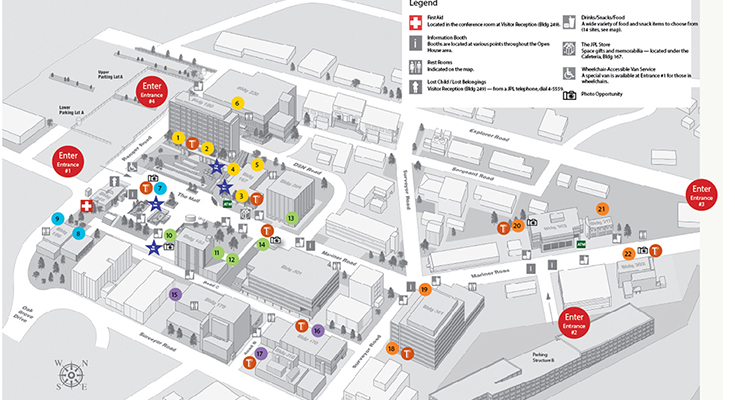 NASA TV airs a variety of regularly scheduled, pre-recorded educational and public relations programming 24 hours a day on its various channels. Programs include "NASA Gallery", which features photographs and video from NASA's history; "Video File", which broadcasts b-roll footage for news and media outlets; "Education File", which provides special programming for schools; "NASA Edge" and "NASA 360", hosted programs that focus on different aspects of NASA; and "This Week @ NASA", which shows news from NASA centers around the country. Live ISS coverage and related commentary is aired daily at 11 a.m. EST and repeats throughout the day.[7] The network also provides an array of live programming, such as 24-hour coverage of Space Shuttle missions, ISS events (spacewalks, media interviews, educational broadcasts), press conferences and rocket launches. These often include running commentary by members of the NASA Public Affairs Office who serve as the "voice of Mission Control," including Rob Navias, Josh Byerly, Nicole Cloutier and Brandi Dean.
SpaceX Launch & Landings - Replay of recent SpaceX missions. SpaceX Falcon Heavy is due to launch in January 2018. Look at a compilation of Falcon launches and landings.
The Universe - Beyond the Big Bang
The universe began with a massive expansion, billions and billions of years ago, and it continues to expand with every passing second. The idea that the universe, and man's very existence, began with a "Big Bang" is no longer a topic of debate among most scientists--it is essentially taken as fact. How has man come to this conclusion, and how has our knowledge evolved so that we can recreate the very first seconds of our universe and all that has developed since? Interviews with the world's leading physicists and historians are woven together with animated recreations and first-person accounts to explain concepts such as the formation of galaxies, the creation of elements and the formation of Earth itself.